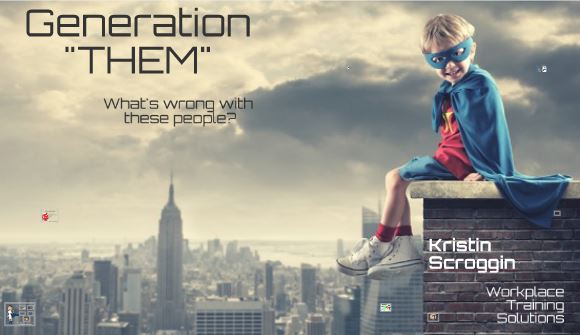 Generation "THEM": Navigating a Multi-Generational Workforce
Generational Diversity is one of the major issues HR managers of all levels face on a daily basis. With approximately half of the current US population under 33 years of age and 50% of executives expected to retire in the next ten years, organizations must begin putting a plan in place to attract and retain top talent. If turnover is taking up more of your budget then you would like, or you're just not attracting younger employees, then you NEED to hear this presentation from genWHY Communication Strategies. You will laugh out loud while you learn about the different perspectives of each of the generations and find that Generation "THEM" is really Generation "US".
This presentation can be extended with exercises and conversation facilitation into a half day or full day corporate training.
Takeaways
Attendees will be able to identify all four generations currently in the American workforce.
Attendees will be able to name two strengths and two needs for each generation.
Attendees will have a skill set to motivate and manage employees.
Attendee Levels:
Attendees can enjoy and learn from this presentation at every level of experience.